What would you do before going skydiving?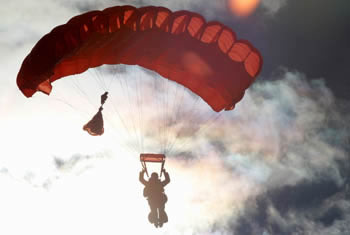 Whenever we take a risk, most of us consider these two questions before we "take the leap";
"What are my chances of success?"
and
"How much will it hurt?"
This is the part of the risk management process which is simply a well thought out collection of planned ways to control situational danger from occurring and/or reduce the harm it can cause.
When you think about it ... We perform many risk management activities in everyday life!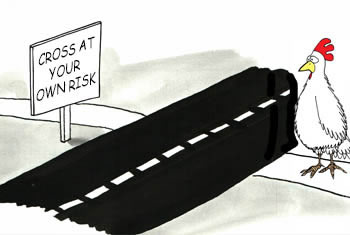 Why did the chicken cross the road?
We know that crossing a street on foot poses the hazard of getting hit by a car, which rates high in severity because it can cause serious injury or death. [Severity can change given the speed limit and type of vehicle].
The probability of occurrence is quickly determined by your own stored memory of data and experiences. [Probability can change given the type of roadway or time of day].
We each have our own internal formula for risk and this is what it looks like:

This formula is part of our everyday internal calculations; we even do it subconsciously.
So, now we see that the probability of occurrence and the severity of harm are both used together to estimate risk. But there is more to it than that when it comes to managing that risk.